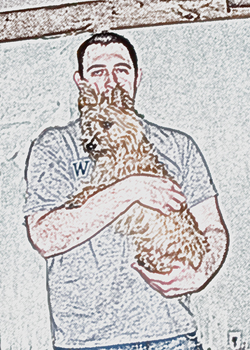 I was born and raised in a small town in north central Missouri called Mexico. Its about 35 miles north east of Columbia, MO. I spent the first 18 years of my life in the country northeast of Mexico. Growing up I spent a lot of time outdoors and spent a lot of time fishing in the two lakes directly north of my parents home.
Sports are a big part of my life. I grew up playing baseball and football. I played baseball for almost 15 years of my life. I played for my high school team for my first two years of school. Then eventually I walked onto Webster's baseball team. I mainly played first base, I did pitch a little but it was never somehting that I seriously pursued.
I also played football at Mexico High School. I played from 7th grade until my senior year. I ended up being a two year letterman on the varsity team playing mainly offensive tackle. I played some defensive tackle, but a vast majority of my time was on the offensive side of the ball.
I also attended classes at the Davis H. Hart Career Center. I completed three programs: Computer Programming and Web Design, Computer Graphic Design, and Marketing. I graduated Mexico High School in May 2007. Upon my completion of my education in Mexico, I decided that Webster University was the best choice for my post high school education.
At Webster, I majored in Computer Science, with an emphasis in Information Managamenet and minors in Web Design and Web Development. I will be walking in May 2010, and will be receiving my degree in August 2010. I have already been accepted into Webster's graduate Web Services program and will start that program in January 2011.
In my spare time, I still follow sports. I am a big St. Louis Cardinals and Kansas City Chiefs fan. Mizzou (University of Missouri- Columbia) is my college team that I follow. I also enjoy the Blues. I also enjoy gaming. I have a PlayStation 3 and a Wii. I do have a few PC games, but I do not play them as offen as my console games.